Adrian Flux: Driverless Cars
WINNER OF BEST FINANCIAL SERVICES CONTENT MARKETING STRATEGY AT THE DRUM CONTENT AWARDS 2017
Adrian Flux Insurance Services is the UK's largest specialist car insurance broker, with over 1,000 staff and more than 600,000 policyholders. In collaboration with our friends at Further, we worked on this project to create the world's first driverless car insurance policy.
The Driverless Cars project had three clear aims in mind —
To be recognised as the leading UK brand for all types of specialist car insurance products.
Improve their search rankings for key niche keywords in the very competitive insurance market.
Position themselves as a 'go-to' company for future insurance requirements in a world continually disrupted by digital changes.
Research and discussions between the two agencies identified autonomous vehicles as a topic rapidly growing in prominence, and likely to cause significant disruption to the insurance market. The large number of questions and issues raised by the public was evidence of a lack of education on the technology and its implications. Ambiguous information from other channels presented an opportunity for us to cut through the noise and position the brand as a reliable and authoritative voice.
If the client could create the first ever driverless cars insurance policy, before their competitors, we knew we could use this as the lynchpin of the campaign and secure prominent coverage.
Target audiences for this campaign were —
Journalists, bloggers and influencers with interests in technology, automotive and finance issues to secure coverage and reach.
UK car owners, particularly early adopters of electric, driverless and semi-autonomous vehicles (e.g Tesla, Volvo, Mercedes cars) as Flux offer policies specific to these vehicles.
Car enthusiasts, current policyholders and prospects.
Analysts, regulators, the government and other members of the insurance industry.
The Platform & Distribution Strategy

To The End along with Further partnered together with Adrian Flux's legal team to create a draft insurance policy. There were several complex considerations, particularly as this would introduce a product not yet available to consumers and break new ground in what we were promoting within the industry.
Once on-site content for the insurance policy page had been created, the press releases were written, and answers to the questions most likely to be asked were compiled.
The platform we agreed upon to support the on-site content was a content hub, where interested parties could browse articles and videos to find out more about driverless cars from a dedicated, reliable source. This decision was based on multiple considerations. Search and trends data, social and online news monitoring demonstrated what a talking point the driverless cars topic had become.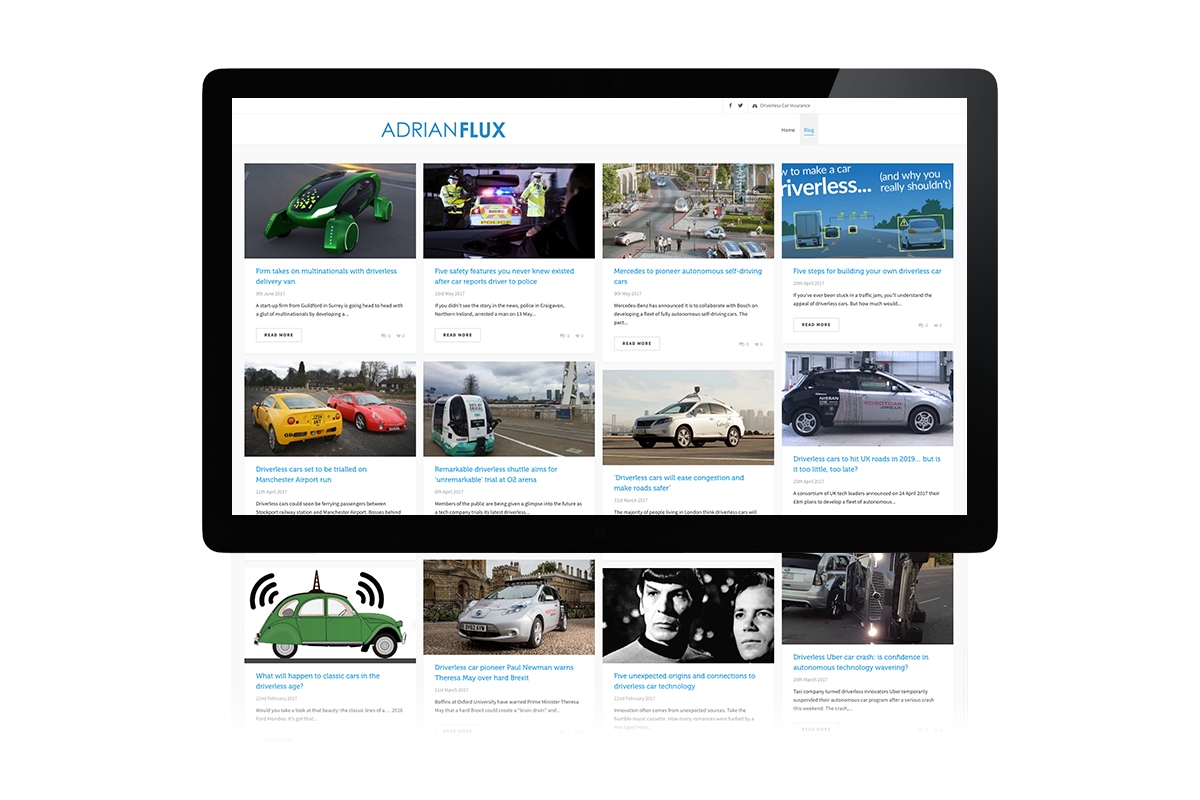 Once the policy was approved and signed off the client was given instructions for the on-page specification for this unique insurance policy.
The distribution strategy was the next crucial step. The strategy would allow the client to spread the news industry-wide in addition to explaining to customers what it all meant. A media outreach list had been researched and collated, encompassing insurance, national, international and technology press.
The Results
Worldwide Coverage and Links from Media
Search visibility increases even on unrelated keywords
Client added to government and industry policy panels
During our campaign we secured media coverage from some of the biggest newspapers and magazines in the world, including: The Guardian, Telegraph, MSN, Slash Dot, Auto Express, Daily Mail, LA Times, Chicago Tribune, Engineering and Technology Magazine, All Insurance, Engadget, Gizmag, Wired, Motortrend, Washington Post and Computer World. Coverage from broadcast media such as BBC Radio 4 accompanied the above.
From an SEO perspective, the campaign achieved 47 links on high authority sites within the first four weeks.
Adrian Flux soon ranked #3 for 'driverless car insurance'. Achieving improved rankings and traffic for terms directly related to the campaign are desired outcomes for this campaign, however, the authority links to 'Driverless Cars' have given a significant and lasting boost to rankings and search share across for the brand wherever there is med-high traffic and commercial intent, such as 'classic car insurance' and 'modified car insurance'. We were able to attribute a 5% increase in clicks on organic search results to the impact of this campaign.
The driverless car hub and the insurance policy landing page attracted more than 27,000 page views in three months.
As a direct result of the 'Driverless Cars' initiative, Adrian Flux now has a representative on two government and industry panels, lending the organisation's expertise to ongoing debates around the introduction of driverless technology to British roads, achieving their goal of being the authoritative voice on driverless car insurance.
What the Client Says
"Driverless cars was an ambitious, innovative campaign that tapped into the buzz surrounding the future of motoring and brought the question of insurance front and centre of the debate. The results are there for all to see, and prove the value of creative, original thinking."

Gerry Bucke,
General Manager at Adrian Flux
Recognition
We are proud to say that this project was shortlisted for six prestigious awards: