Forever Cars
2020 FINALIST FOR BEST CONTENT SERIES AT UK CONTENT AWARDS & 2018 CMA AWARDS FINALIST FOR 'BEST USE OF CONTENT WITHIN MEDIA RELATIONS'
Adrian Flux Insurance Services is the UK's largest specialist insurance broker which employs 1,000+ staff and has around 600,000 policyholders. Within the insurance industry Adrian Flux is recognised as the market leader for its expertise in classic cars and motorsports.
Typically the insurance industry isn't very exciting, meaning that it can be a challenge to engage customers and get them interested in insurance.
The idea of a long term ownership project came about, in the form of Forever Cars, which is a blog that sits on the Adrian Flux website and hosts stories from people who have owned their car for over 30 years.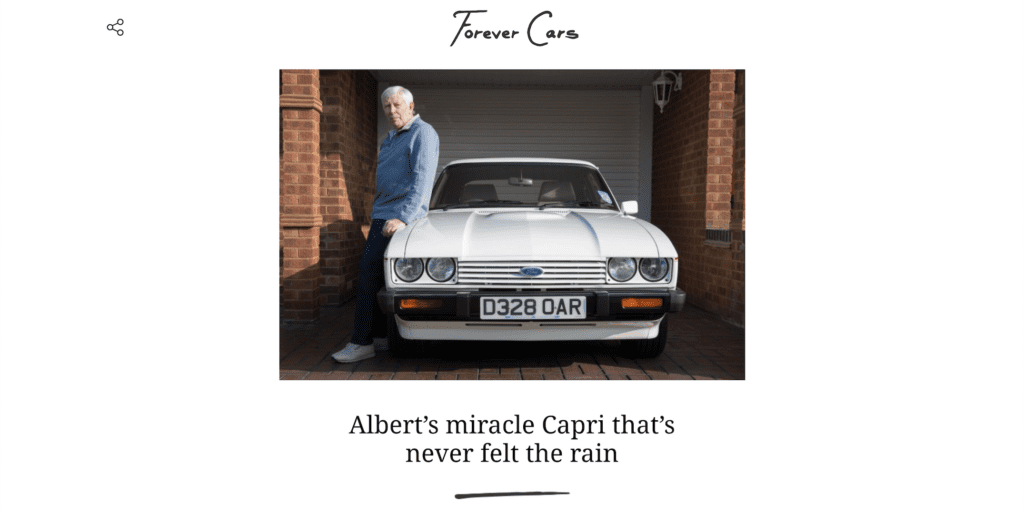 The success of the online blog led to the creation of a Forever Cars printed book for the client to hand out, initially at Silverstone Classic car show, where Adrian Flux were an official partner. We have also produced video content featuring the stories from the blog.
Target audiences for this campaign were —
Classic Car Owners, existing and potential Adrian Flux customers.
Classic Car enthusiasts.
Journalists, bloggers and influencers with interests in classic cars to secure coverage and reach.
Creation and Strategy
To The End developed Forever Cars after sifting through well performing social content and motoring stories that a frequently highlighted in mainstream media.
The project took advantage of the findings that combinations of nostalgia and human interest appeared to be a popular source of engagement, with shows such as classic car renovation television programme Car SOS attracting a lot of attention from our target audience.
The content was collated through interviewing some of Adrian Flux's longest-standing customers, to find the stories behind the superfans who have owned their vehicles for decades.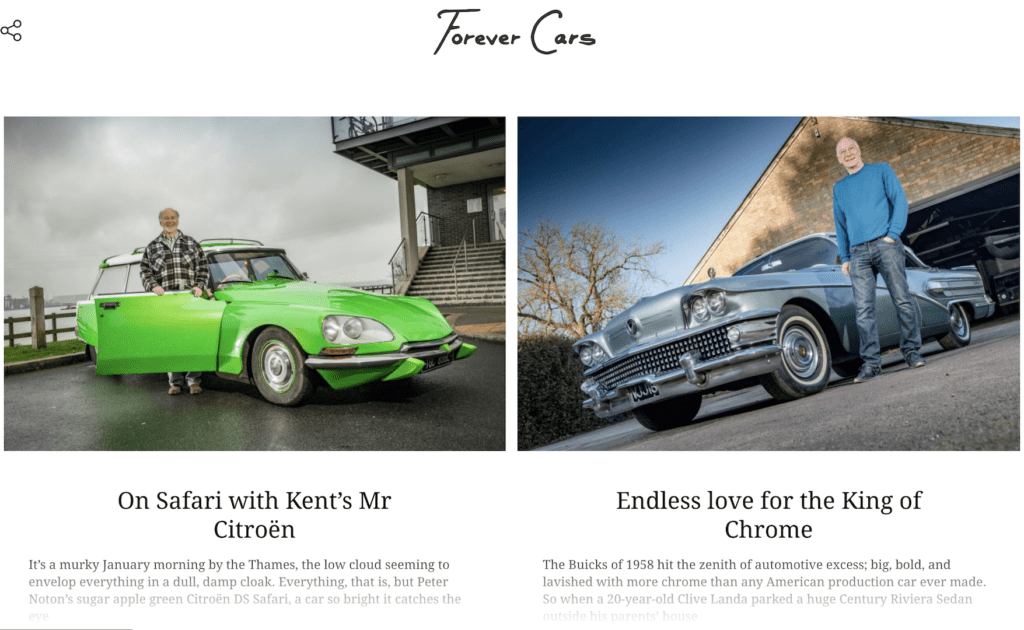 The Platform & Distribution Strategy
The platform we designed and developed to support the on-site content was a blog, where interested parties could browse articles and view photographs with an enjoyable user experience.
Forever Cars was launched at adrianflux.co.uk/forever-cars, from this point at least one article per month has been added to build up credibility as an authority on classic cars.
Articles are uploaded to the blog on a regular basis following interviews with the car owners. These articles focus not only on the vehicle itself, but the story behind them and the memories they bring. Every story is about the owner's emotional connection with their car, from highlights of taking their sons and daughters to weddings, to the sometimes challenging renovation projects.
Once the articles have been uploaded the content is then distributed through online channels, dependant on the story. These outlets include: social media – where existing and potential customers can engage with the content and are targeted through paid methods, native advertising – to increase brand awareness of Adrian Flux through paying for content to appear adjacent to articles on popular news sites as well.
Email is also used to engage existing Adrian Flux customers, providing them with valuable content as a loyal customer.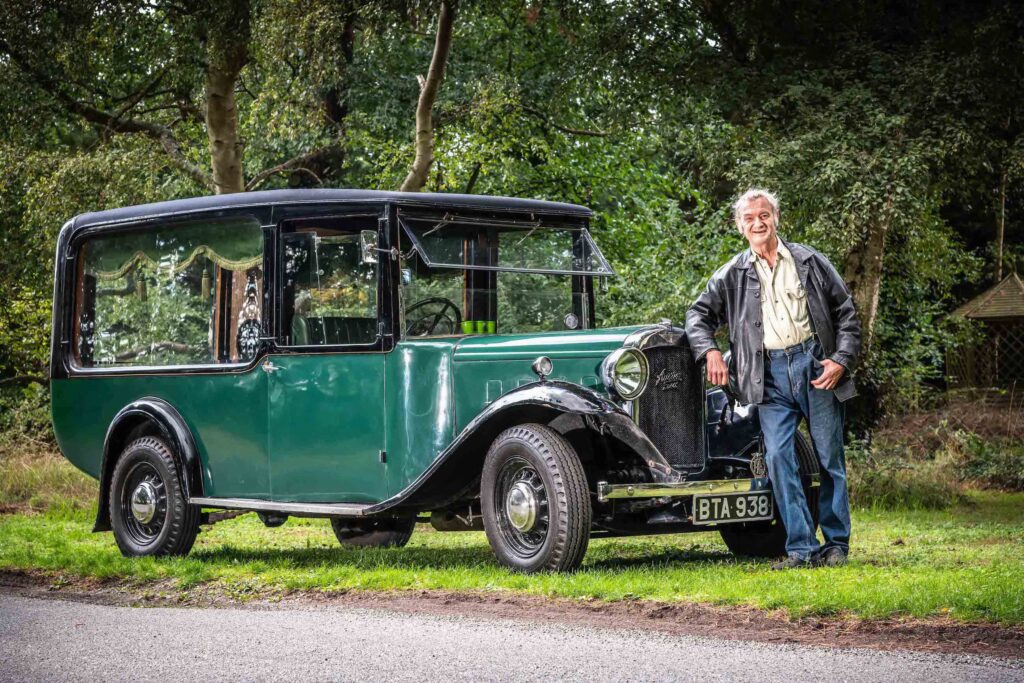 The Results
Press placements in major UK publications: Daily Mail, Daily Express and The Sun. This generated national brand exposure for Adrian Flux and increased brand awareness.
Locally, coverage was also gained in regional media where the individuals behind the stories live. This includes: Bury Free Press and the Oxford Mail. A recent interview about a classic BTCC car was also featured in the Checkered Flag.
415,000 sessions to the Forever Cars blog.
Since the launch of the blog, it has had over 560,000 page views with the average time being spent on the page being 3:40 minutes, which is substantial compared to the average time of 1:41 minutes spent on the Adrian Flux website over the same period.
The number of returning visitors to the Forever Cars site is 13.7% and there is a rate of 86.3% new visitors, so whilst the content is keeping current users engaged and returning, there is clear evidence of new visitors reaching the domain.
Emails to Adrian Flux's existing customers generated some stand out click-through rates such as: the Jaguar XJ achieved an open rate on email of 38% and click-through rate of 18%. The Lotus Cortina was part of another successful email campaign with an open rate of 33% and click-through rate of 28%.
Meanwhile 93,000 sessions came from Adrian Flux's social media platforms.
The Forever Cars physical book was well received by attendees of Silverstone Classic and is now being distributed to Adrian Flux's contacts at Classic Car clubs and other parties who have shown interest in the publication. This further increases Adrian Flux's brand awareness in the Classic Car market.
What the Client Says
'Forever Cars is a project that fits in seamlessly with the Adrian Flux brand as the compelling content truly resonates with our customer base of classic car enthusiasts. The content is also accessible and interesting to a much wider audience tapping into emotions evoked through nostalgia with these classic and most importantly beloved vehicles. The addition of the printed book increased our brand recognition amongst the classic car community at the 2018 Silverstone Classic event.'

Gerry Bucke,
General Manager at Adrian Flux
Recognition & Coverage
Forever Cars was a Finalist in the 2018 International Content Marketing Awards in the Best Use of Content Within Media Relations category and for Best Content Series at the 2020 UK Content Awards.