Influx Magazine
NOMINATED FOR MANY AWARDS INCLUDING: BEST FINANCIAL SERVICES CONTENT STRATEGY (DRUM CONTENT AWARDS), BEST AUTOMOTIVE MAGAZINE (DIGITAL MAGAZINE AWARDS), VIDEO CONTENT CAMPAIGN OF THE YEAR (EUROPEAN CONTENT AWARDS)
Insurance broker Adrian Flux offers specialist car insurance for enthusiasts. Influx Magazine started life in physical format, sent to customers via direct mail and distributed at motor shows and events. Since its inception the aim of the publication has been to consistently offer petrolheads an eclectic mix of the world's finest cars and bikes, as well as the people and cultures behind them.
The magazine first appeared online as a WordPress blog, with the aim to reach a wider, digital, readership. Monitoring industry trends as we grew the amount of traffic coming to the site, we spotted an opportunity to make even more of an impact and to grow Influx online as a multimedia offering. The objective of this video-led strategy was to boost growth and credibility amongst their motoring expert readership.
Target audiences for this campaign were —
Existing customers of Adrian Flux, for whom Influx serves as a customer magazine:
Car enthusiasts in a range of particular niche audiences
The Platform & Distribution Strategy
We came up with a strategy to create monthly themed content around a centrepiece video, building a regular offering of diverse content that would delve into niche areas and motoring topics. The aim of this extension to the Adrian Flux brand was to help promote a positive feeling toward the brand name and establish its reputation within the world of motor enthusiasts.
Each piece of content needed to provide specialist and timely updates, relevant to the Adrian Flux customer. We also wanted to provide readers with a positive UX experience, meaning that they would be able to read and browse through the whole publication in an easy and straightforward way.
A customisable platform was implemented, with a responsive website and brand refresh, all in order to make the site as user-friendly as possible. This would also help to encourage a loyal following – increasing and retaining subscribers to engage current customers with the Adrian Flux brand in a non-commercial context.
In order keep up momentum on social, we increased social activity, including sharing of the video editions as well as supporting content – engaging current and prospective followers. This, in turn, increased brand awareness for both Adrian Flux and Influx, and built its credibility amongst the target audience.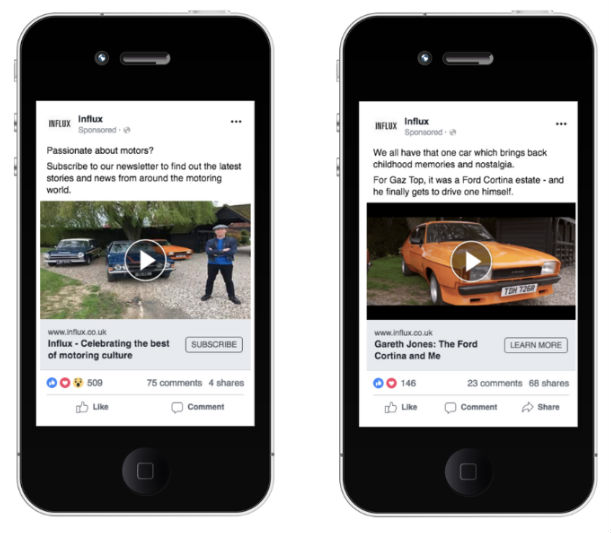 Expert journalists have been commissioned to provide written content and celebrities within the field were sourced as columnists to help build credibility and diverse content. In terms of outreaching this content, it's achieved through forum posting and blogger contacts. Monthly features have been publicised via press releases targeting key car publications as well as email campaigns sent out to existing customers.
The Results
Policy Renewal Rates increased 3.9%
146% more visits
62% average view time
15 million YouTube views
The awards the Influx campaign was shortlisted for in 2015 included: 'Best Content Strategy in Financial Services' in the Drum Content Awards, as well as being a finalist in the 2015 Digital Magazine Awards in the category of 'Best Automotive Magazine'. Further nominations include: 'Best Financial Services Campaign/Strategy of the year 2015' in the Drum Network Awards and making it to the 'Best Finance' category in the International Content Marketing Awards.
What the Client Says
"I have been extremely impressed with the Influx campaign, both from a creative and business point of view. Not only has Influx evolved under Maze Media's stewardship to promote the Adrian Flux brand within motoring circles, but it has become a well-respected magazine in its own right, and something which we are all very proud to be associated with.The benefits to our business are undeniable, with people relating to us better than ever before and seeing Adrian Flux and Influx as resources for the motoring and insurance communities."

Gerry Bucke,
General Manager at Adrian Flux
Recognition
Since 2015, Influx continues to evolve and improve, and new Influx content has been shortlisted for one or more prestigious awards every year up to 2020.