"The red car and the blue car had a race…"
So went the song, in the days the advertisers could say 'smart old blue he chose the Milky Way', and then, when bringing back the campaign many years later, 'good old blue' – because by that time you could not suggest that eating a Milky Way made you 'smarter'. The blue wins of course and greedy red gets some kind of comeuppance for eating the entire race course.
Anyway, I'm not even one paragraph into this post and I've already been distracted by "chocolately goodness" (yeah, that was a thing in the '80s too)… what I'm actually here to talk about is a blue car and a red car racing in the 2019 Kwik Fit British Touring Car Championship (BTCC). The BTCC is the UK's premier national racing series. To get any bigger than this, you need to think internationally.
In the blue (and white) corner, is the Adrian Flux Insurance-branded team BMR. With a young and hungry pair of drivers (combined age of 45 years), racing the rear wheel drive Subaru Levorg.
In the red (and white) corner, is the Sterling Insurance-branded team PMR. With a vastly experienced pair of race-winning drivers (combined age of 101 years), racing the front wheel drive Vauxhall Astra.
These two teams are true goliaths in modern BTCC, with a BMR car finishing the final race of the season at Brands Hatch just a few inches ahead of a PMR car (without red on it last year), and taking that final victory of the year. These two are closely matched rivals for race wins, TV coverage, and fans' hearts.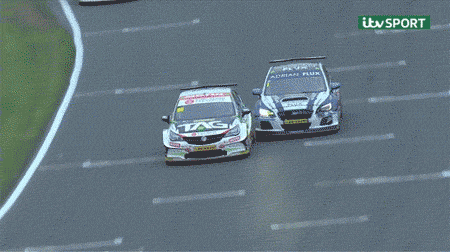 So why do I mention them?
It's because the title sponsors for each team for 2019 – Adrian Flux Insurance and Sterling Insurance – are both brands that we market.
A knowledge of BTCC and motor racing is obviously quite well established at To The End, with some of our brands backing classic car shows, Formula 2 drivers, rally teams and even Isle of Man TT racers, and so we're ideally placed to make the most of sponsorship deals in a high-profile series like the BTCC. We've been working with BMR now for around 3 years.
We did this video last year, for example, which was viewed by over 100,000 people across YouTube and Facebook…
In order to do our very best, though, we need to know the teams inside out. We need to know the off-the-record stuff. We need to know announcements coming up before they're announced – usually because we're the people writing the press releases… and the rival teams, of course, don't want insider secrets leaked to a rival team.
And that's precisely where we get a real chance to shine. Not only have we got the strength in depth through our team to be able to have separate full-sized yet fully-independent teams working on each brand, but we can also be trusted to keep the off-the-record secrets away from being discussed over the water cooler.
Not only does it instil a great amount of pride in our workforce as a whole to be trusted like this, but it also inevitably creates a great in-house rivalry between the two teams. And that is bound to work wonders for both of the race teams as we each strive to make our end of the pit lane the one which gets the best results for our clients.
Here's to a great year of racing in BTCC, and some close battles between the two teams we've got a very special interest in.
As for which team I'm on, well I wouldn't have brought up the Milky Way ad if I was on the red team now, would I?