As we tumbled half-intoxicated over the threshold of a new year, and Auld Lang Syne's lyrics were misremembered by millions, we left behind a remarkable year in marketing for To The End.
In January 2018 we predicted a few trends which were realised over the year – like the rise of vegan marketing. In fact, the very day I write this sentence, 'vegan' is trending on Twitter as Greggs have just launched a vegan sausage roll, packaged to journalists as a new high-tech device.
Back in March, we detailed the fake news detectors kicking in for Facebook – now, call us sceptical but we don't seem to have seen too much of a drop in the fake stuff, so are the computers still trying to learn what is and is not regarded as 'fake'? Or have Facebook just given up?
In May, we looked at ways to encourage links to your site – and even drew that black/blue v white/gold dress debate out of retirement to make our point.
Through the Summer, we offered advice on getting subscribers back after GDPR-prompted purging had occurred in email lists across the dataverse, and we got excited about Instagram's new toy – IGTV.
In October, we looked at how to work with algorithms rather than against them or trying to trick them, and also despaired at a major courier service abandoning Twitter as a customer service channel. As predicted, the venting of their customers now happens without their control – so will they make a comeback to Twitter?
During 2018 we were also pleased to be involved with the CMA awards, having been nominated ourselves and also being involved in judging some of the categories (not the ones we were nominated in, of course).
As well as the great campaigns that were up for the CMA awards, like Best Consumer winner Frölunda Torg with the 'Living in a mall' campaign and runner-up Voltarol and their 'Britain by Bike with Larry and George Lamb' campaign, we also enjoyed great campaigns by BBC for the BBC sounds app, and the Turkish Airlines/Lego Movie combo for the airline's in-flight safety videos.
We also saw a great example of turning a negative into a chance to shine – when KFC ran out of chicken, but managed to stay positive and come out smelling like a secret blend of herbs and spices with this image in newspapers: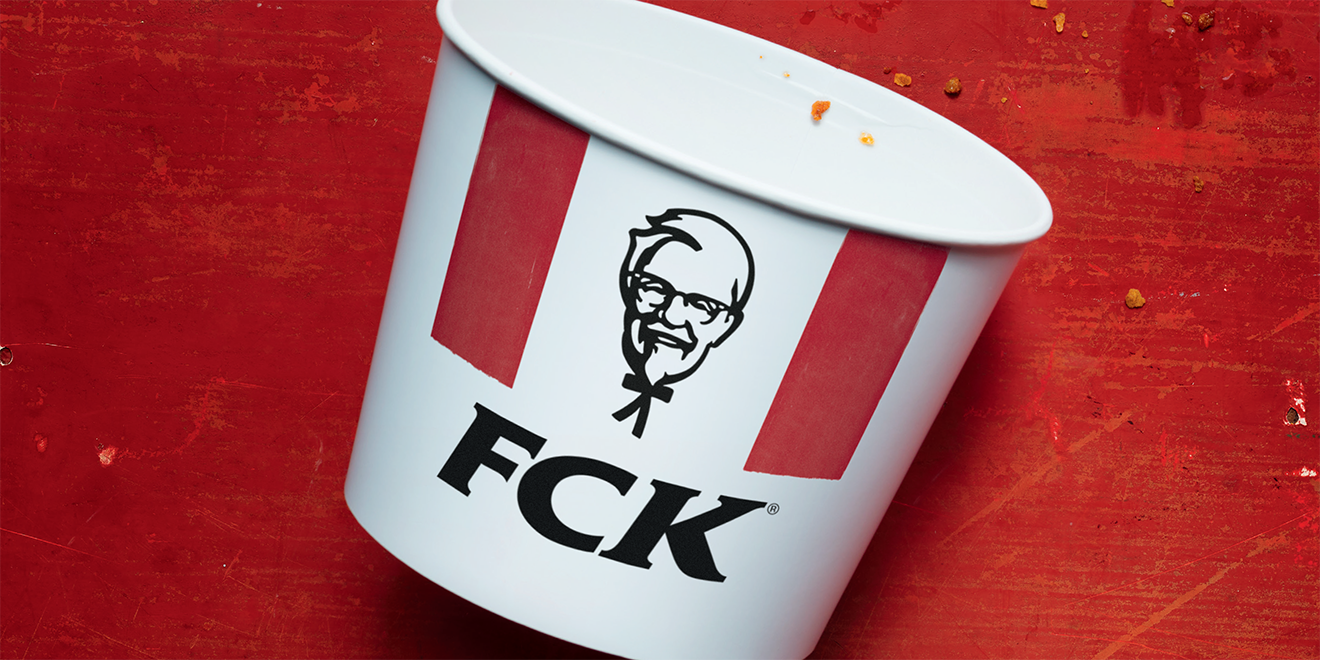 An honourable mention also goes to this video by Phil Beastall because, despite feeling very much like a retail giant's Christmas campaign, it wasn't actually selling anything. Is it marketing, then? Well, he has certainly promoted his storytelling skill by releasing it – so we'll allow it.
Talking of retail-giant-style Crimbo campaigns, a nice bit of hijack marketing by Radio X took social media by storm as they duped the internet into believing they were getting a preview of John Lewis' 2018 Christmas campaign – but, in fact, they were just watching Chris Moyles.
What will 2019 bring? Innovation, lateral thinking, excitement and, of course, results – and if you can combine all those things into one campaign then maybe we'll see you at the CMA awards again this year.
Keep an eye out on our journal this week for our 2019 design predictions, for a start…