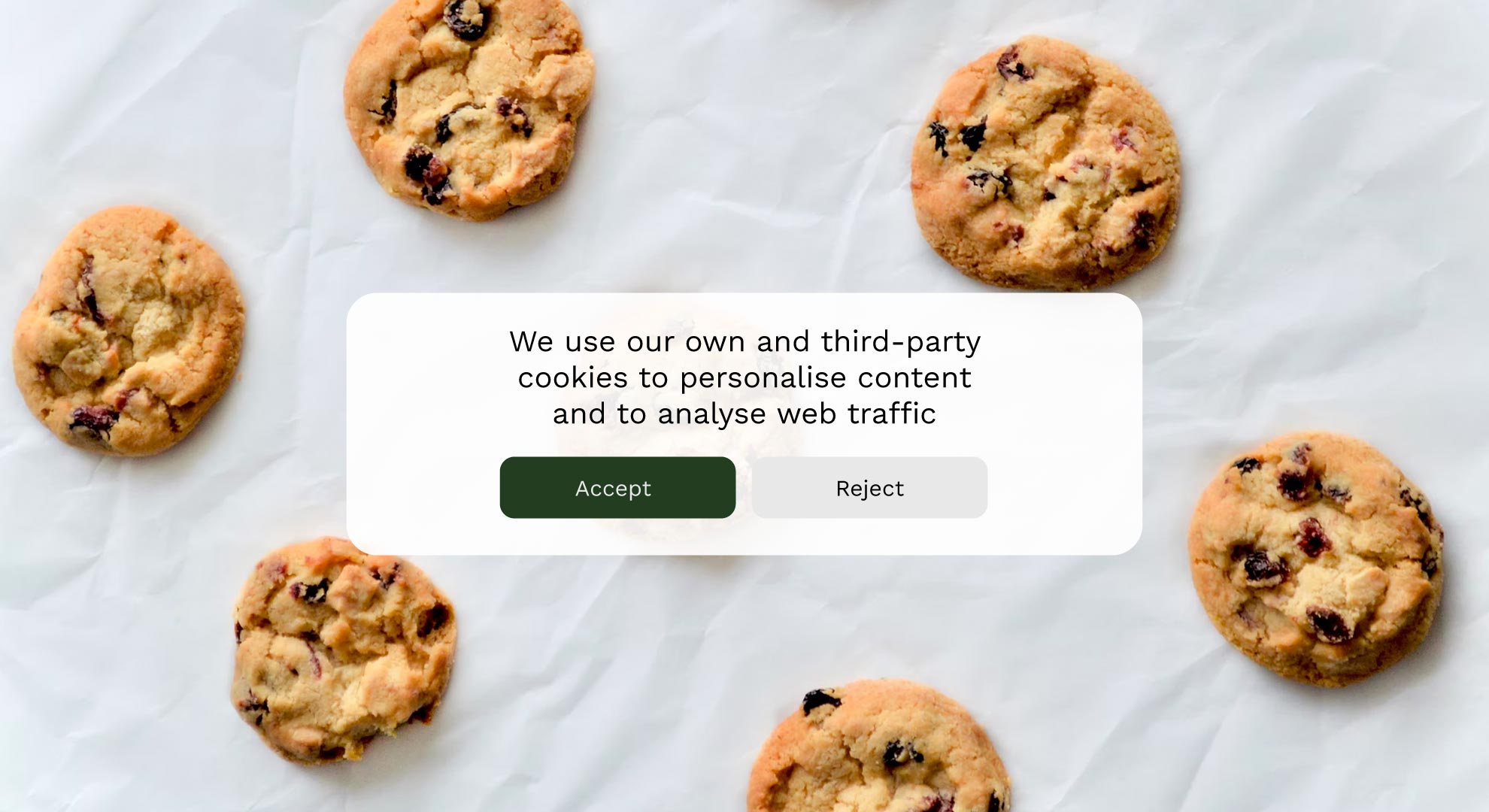 Since changes to GDPR regulations in 2018, more companies are displaying cookie banners and notifications on their website. But there is a slight issue: these banners are usually ineffective, wordy and leading. We explore why you should care and how we can solve this problem in this blog.
First of all, what are cookies and why do they exist?
There are two main types of cookies: first party and third party cookies.
First-party cookies are used by the website you're browsing. They can be used for a number of reasons, such as remembering your previous visit and acting accordingly or sending user data to analytics tools like Google Analytics. In general, first-party cookies help improve the user experience.
Third-party cookies are cookies that aren't from the website you're browsing. They're usually used for marketing purposes to show more relevant ads but can also include third-party services used on your website like chatbots. These are being phased out in 2023, though many browsers (e.g. Safari and Firefox) have already blocked them.
What's with the cookie banners?
Cookie banners help improve the transparency of the web. They do this by helping users understand how and why cookies are being used, and also giving them the opportunity to accept, partially accept or opt-out of cookies.
You've probably seen many examples of these while browsing the web, but unless you're passionate about privacy, you might not have really noticed them except as an annoyance you have to skip through whenever you visit a new site. And therein lies the problem.
Cookie consent or coercion?

Although the GDPR cookie consent changes were implemented to improve transparency for users, a research paper entitled (Un)informed Consent: Studying GDPR Consent Notices in the Field suggests that most notices are meaningless or manipulative.
The study found that a whopping 86% of cookie banners offered no other options besides a confirmation button that didn't do anything, and 57% of banners attempted to nudge users towards consenting.
In fact, the vast majority of users didn't interact with the cookie banner at all, with many explaining they didn't see the notice, the notices were annoying, and they thought that no cookies would be set if they did not interact with the notice. Although this is how they should function, many still do not.
This suggests that cookie banners are ineffective and misunderstood.
But what does it matter and why should businesses care?
The fact of the matter is that most cookie consent banners are very similar in design and content, give or take their placement, nudging techniques and options. But that means that companies going the extra mile are really able to stand out, especially if they present the information in a clear way and use the space to reinforce business values and tone of voice.
After all, the cookie banner is one of the first things that users will face when they visit your site. As it's the first thing visitors will see, getting it right can make a huge difference. And persuading users to accept first-party cookies in an honest, clear way will have the added benefit of allowing you to collect user information in a GDPR-compliant way, which will, in turn, help you understand your audience better.
Helps you understand your audience better
Getting users to opt-in to cookies is actually quite important for your business, especially if you use any third-party tools to see user metrics and customer behaviour.
Third-party tools like Google Analytics, Hotjar, Crazy Egg and Adobe Analytics can help you understand your audience, especially when it comes to things like:
Demographics (age, gender, location, etc.)
How users interact with your website
How users found your website
How different versions of your website perform (i.e. A/B testing)
Sales metrics and basket abandonment rate
Your user's interests
As a result, although cookie consent banners may feel like a task you can undertake with minimal effort, it can be beneficial to put some time and effort into getting them right.
Tips for writing effective cookie consent notices
Cookie notice content should be clear, accessible and useful. The following can help ensure they are.
Clearly and explicitly inform the user that you use cookies on your site
Note that the language used should be simple and easy to understand as the average reading age in the UK is 9 years old.
Explain why you use cookies and which ones you use
Chances are you're using cookies to improve the user experience of your site. Explicitly explaining which cookies you're using and why they can be a benefit to users can help users make more informed decisions. This should include information about any third-party cookies on your site.
Tell the user what their rights are when it comes to accepting and declining cookies
Explicitly state how users can disable cookies and what will happen if they disable them. For example, this might affect their experience (e.g. their basket won't be saved on an e-commerce site), the site's functionality and style, and your ability to create a better understanding of your customer needs and the way they interact with the site.
Use your brand tone of voice to explain all of the above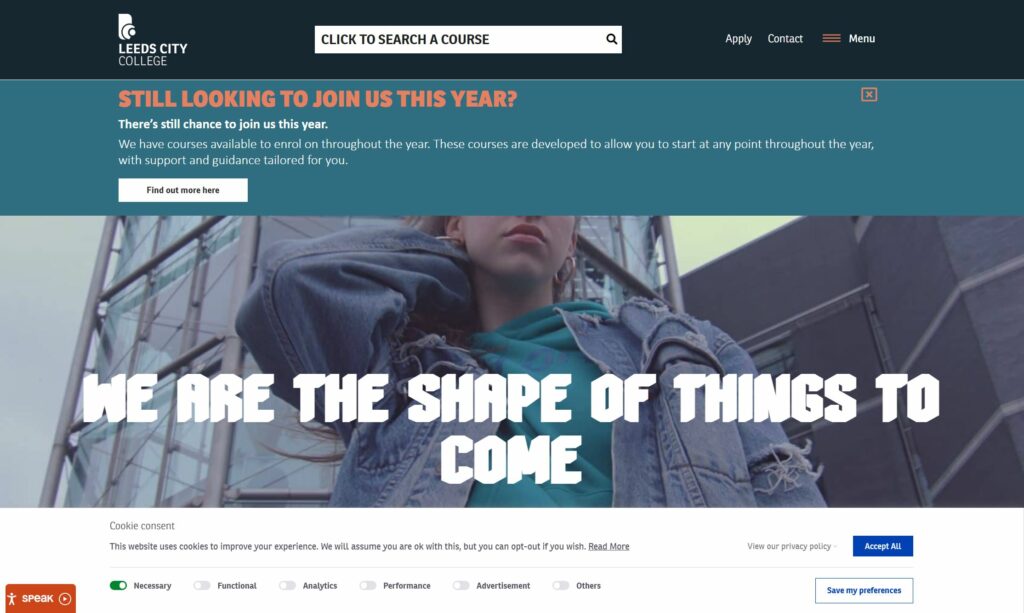 Many websites use technical language to explain what cookies are and what they do. However, this makes it difficult for the user to understand the impact of accepting cookies, and it also could dilute your branding.
When writing up your website copy, make sure you also consider how to write up the cookie notice in a way that suits your brand.
Technical and design elements you should consider
The following are technical and design elements you should consider implementing when creating a cookie banner or notice for your website.
Ensure that cookies are disabled until the user accepts them
In order to comply with GDPR laws, specifically the 'lawfulness of processing' section, you should ensure that cookies are disabled until the user accepts them.
Ensure the design isn't nudging users into performing a certain action

According to research from Deloitte, 43% of the websites they checked for their research used nudging techniques to try and get users to accept the cookies. Examples of this include:
Using bolder colours for the 'Accept' button (e.g. green vs. grey for the 'Decline' button)
Making opting out more difficult (e.g. forcing users to deselect different types of cookies in order to opt out)
Hiding advanced settings behind links that are difficult to spot
Using technical language to explain what the cookies are used for