Adrian Flux Learner Driver Hub
SHORTLISTED FOR BEST FINANCE CONTENT CAMPAIGN AT THE 2018 INTERNATIONAL CONTENT MARKETING AWARDS
Adrian Flux Insurance Services offers a wide range of insurance products, including Learner Driver insurance.
Acquiring customers at a stage when they're learning to drive could result in a long term, loyal customer. By providing a resource to support learner drivers through the process of passing their driving test, Adrian Flux wanted to capitalise on the opportunity to drive brand loyalty from an early stage. 'The Learner Driver Hub would include resources such as videos, blog posts, guides and even an online theory app. Aimed at a specific demographic this resourceful site was designed to convert those visiting.
Objectives for this campaign were —
To give existing Adrian Flux customers added value by providing support and resources.
To increase brand awareness among new drivers and their parents.
To bring new visitors to the site and increase traffic to the domain.
An Evolving Strategy
To create the content for the hub we partnered with Caroline's Driving School to create the content for the videos, such as key manoeuvres.
We also collaborated with Further (a search agency we partner with) to gain resources for content, car insurance, guides and blogs. This included essential information from guidance on passing the driving test to saving money on insuring your first car.
The Learner Driver hub was first launched July 2017.
When the site first launched we analysed that traffic coming to the site was from a younger demographic of 18-24 years with affinity interests in nightclubs and fast-food. We aligned this with the design of the site to target this demographic through illustrations, easy navigation and bright colours.
Following on from this we partnered with UCAS to advertise the Learner Driver Hub and build brand awareness within the learner driver demographic.
However, through Google Analytics we recognised that despite bringing this demographic to the site, minimal conversions were being made.
We realised that whilst this younger demographic use the Learner Driver Hub as a valuable resource, it was actually an older demographic of parental ages between 45-54 years with affinity interests in family activities and cookery shows, who were buying the car insurance through the hub.
This was an indicator that we needed to make adjustments to the hub to make the site more conversion-led for new customers, whilst still acting as a valuable resource for existing customers.
In order to do this we retargeted the Learner Driver Hub towards parents seeking new car insurance on behalf of their children, or to insure their children on their own car as an additional driver.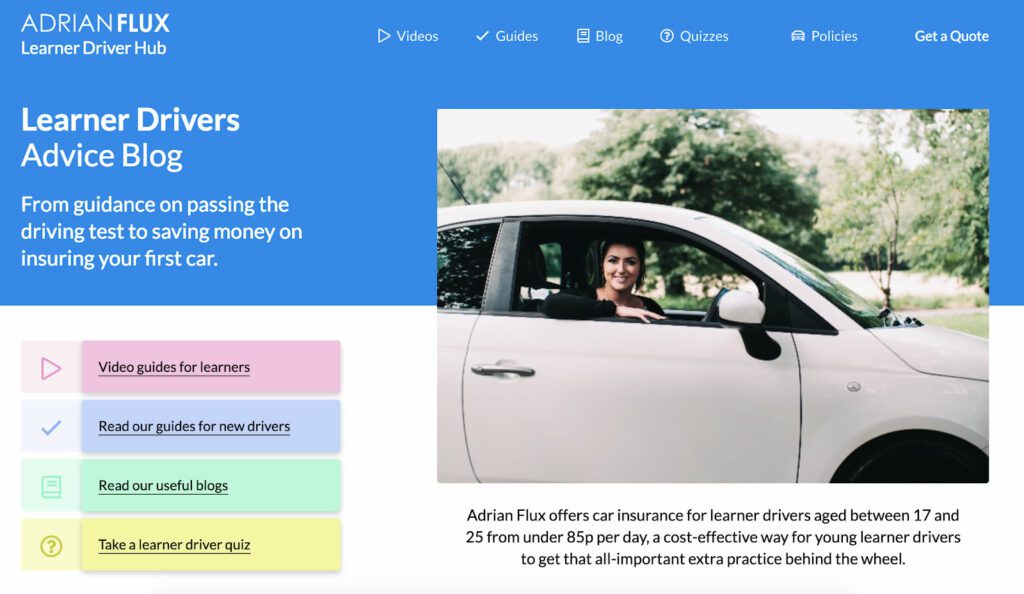 On 27th March 2018, seven months after the initial launch, the new and updated learner driver hub went live.
This entailed redesigning the website to appeal to the parental demographic. We did this through adaptations such as changing the website layout and colour scheme and removing the illustrations.
We also made the blog content more relevant for parents seeking insurance for their children through blog posts such as 'Supervising a learner driver' or 'How to buy cover for your child'. To make the content relevant for learner drivers, blog posts such as 'I'm 18-21: How do I get cheap insurance' are popular and enables Adrian Flux to maintain credibility within the car insurance market. We continually generate new content for the blog.
A partnership was developed with the Theory Testing App in order to use as a paid advertising platform and to sustain Adrian Flux's status as a valuable resource for learner drivers. This also enabled us to gain feedback and recommendations from the company to enhance our own site with their knowledge of learner drivers.
Through the use of influencers and competitions we also pushed users to a landing page built within the hub. This landing page featured enticing click throughs directing people towards the rest of the content on the hub. This competition enabled us to collect email data which we have been able to use by converting into social lookalike audiences targeting and directing more traffic to the site.
The Results
Analytics demonstrate that sessions to the new Learner Driver Hub have significantly increased since the original launch. The percentage of parental aged users aged between 35-44 years increased from 19% to 29% due to the added sophistication to the site. This success was also demonstrated by those aged between 45-54 years, whereby users increased from 23% to 28%.
A particularly successful email campaign in June 2018 resulted in 1,381 sessions with an outstanding bounce rate of 18.9%. The average number of pages visited was 4.66 and there was a session duration of 3:43 minutes. This proves the success of the revamp, especially considering that original Learner Driver Hub in the first month had a high bounce rate of 90.49% and an average session duration of just 0:29 minutes.
Despite the fact that the revamp was intended to primarily increase traffic from an older demographic, the success of the influencer campaign and competitions also increased the percentage of users aged 18-24 years to the site. This was increased from 10% to 14% and enabled Adrian Flux to build their brand awareness amongst the learner driver target audience on social media channels Facebook and Instagram. This was supported by the process of hand-selecting an audience on Facebook whereby we were able to reach 19,513 people for a competition post.
We are constantly updating the Learner Driver Hub with relevant and up to date content to remain as a credible resource.
What the Client Says
"The Learner Driver Hub is a project we are extremely proud of. We have created the go-to hub with informative content and great resources to truly help both parents and learner drivers to build their knowledge and confidence to become safer drivers." – Gerry Bucke, General Manager.
Recognition
We are proud to say that this project was shortlisted for Best Finance Campaign at the 2018 International Content Marketing Awards.